It's that time of year again! The time of year we Google up ideas for the best gifts to give coworkers, friends and family this year. Today we will be taking a look at some of the most popular technology related gifts for 2015 and how they can go horribly, terribly sideways. Don't get me wrong, they all have their place and function and could make awesome gifts but make sure you think twice when buying for the people on your list this year.
Hoverboards
Who wouldn't want a hoverboard? Probably the number one techie gift item this year, hoverboards are available in a wide range of styles and prices. The internet is full of funny videos of people testing them out, from toddlers to the elderly. However, there are just as many of people being injured after losing their balance and falling. Maybe wear a helmet and practice in a wide open space.
They look like great fun but did you know some hoverboards have exploded or caught fire? If you are planning on traveling or shipping a board by air, it's important to note that some airlines, including Hawaiian Airlines and Jet Blue, have banned them. There have been numerous reports of overheating, smoking, flames and actual explosions, most likely caused by the lithium ion battery pack.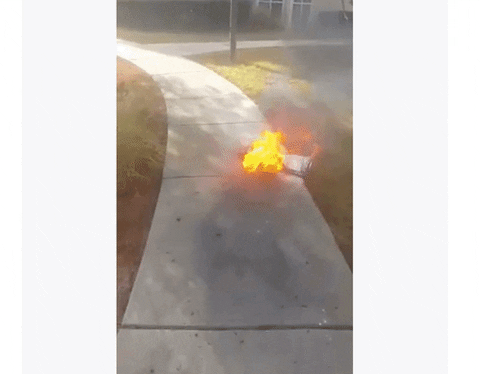 Drones
Drones or quadrocoptors are guaranteed to make all the top gift lists for 2015. The possibilities for use are endless both in business aspects and the private market but I'm sure you can guess where this is going. Drones can be quite dangerous in the hands of an inexperienced pilot, as I can personally attest. My father was flying his brand new toy in his living room and got a bit too close to the back of the couch, the propeller blades sliced the leather and damaged it beyond repair. Luckily the drone was ok, but shortly after that he took it outside and it crashed, nearly taking out the mailbox. Practice makes perfect, but on Christmas Day, surrounded by family members, probably isn't the best time to practice flight skills.
Once you have a nice open space, without people around, you can fly it right? Maybe. You also need to watch for birds, power lines and if you fly your drone into regulated airspace (airports, government builds etc) you could be arrested. Please, don't get arrested.
3rd Party Battery Chargers
Accessories for our devices made by 3rd party manufactures can make really cool gifts. Last year, a coworker bought me a converter that plugs into my phone and sends music through my car stereo, it's awesome, I use it all the time. However, there are some accessories that should not be purchased cheap, mainly chargers for devices with lithium ion batteries. If someone on your list is asking for any sort of charger, make sure you are ordering from a source you know to be selling the correct, branded products. Knock off iPhone and Android chargers, e-cigarette chargers and others have caused devices to overheat, started major fires and even killed people. Stay safe and spring for the real thing!
High Powered Dart Gun/ Launcher
In our office, it's very likely for someone to be hiding at least 2 Nerf guns in and around their desks. We used to have fun, spontaneous battles on occasion but then something happened. The battery powered behemoth of a dart launcher happened. We didn't see it coming, we had no idea what we were getting into. When this bad boy got opened up at the holiday party, it was still all fun and games.
Until it wasn't. These battery powered guns are so powerful, they are not usable in any environment where you are closer than 35ft from your opponent, or for children at any distance. Any closer than 35ft and you could literally shoot someone's eye out. Trust me, I almost shot someone's eye out. Stick with the little guns, there is such a thing as taking it too far and this is it.